About BOB Wonderkid
Brainobrain Kids Academy Private Limited, present across 44 countries has been empowering young geniuses worldwide. It is one of the world's leading children institute for self-empowerment, and has been successfully conducting Wonderkid Competitions for the past 11 years. This year, considering the unavoidable circumstances, the competition will be held Online. Brainobrain's motto has always been to empower children and bring out the leaders in them. Wonderkid Competition is one of its effort to achieve its larger goal. The aim of this competition is to motivate, empower and increase competitiveness in children. This competition will also give children the platform to compete against fellow students of their age, across the nation. 11th BOB Wonderkid is expected to be one of the largest National level Inter School competition with around 50,000 students participating from 1500 schools across the nation.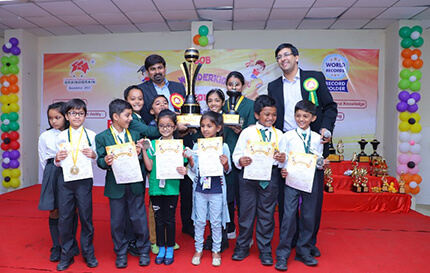 ---
About the Competition
The competition comprises one common paper which has multiple choice questions under the areas of Mental Maths, Logical Ability, General Knowledge and Speed Typing. 40 minutes will be given to complete all the 4 sections.
1st grade until 8th
grade are welcome to participate.
Online – At the comfort of your home. Both mobile and laptop can be used, regardless of it being Android or IOS.
Participants will be competing amongst students of their own grades.
Marking Scheme:
Classes 1 &2 : 1 Marks for each correct answer
Classes 3 to 8 : 2 Marks for each correct Answer and Minus 1 for every incorrect answer
A onetime payment of 165 INR per student. Includes access to practice mock papers for the competition.
Cash prize of 15,00,000 INR will be distributed amongst the winners. Merit Certificates with the mention of candidate's State/National level rank will be issued, along with the distribution of Gold and Silver medals for the top 50% of the participants.
Date of Competition – 29th August & 5th September 2021 (You can choose a date of your choice while registering).
Last Date for Registration – 24th August 2021.
---
Past Events